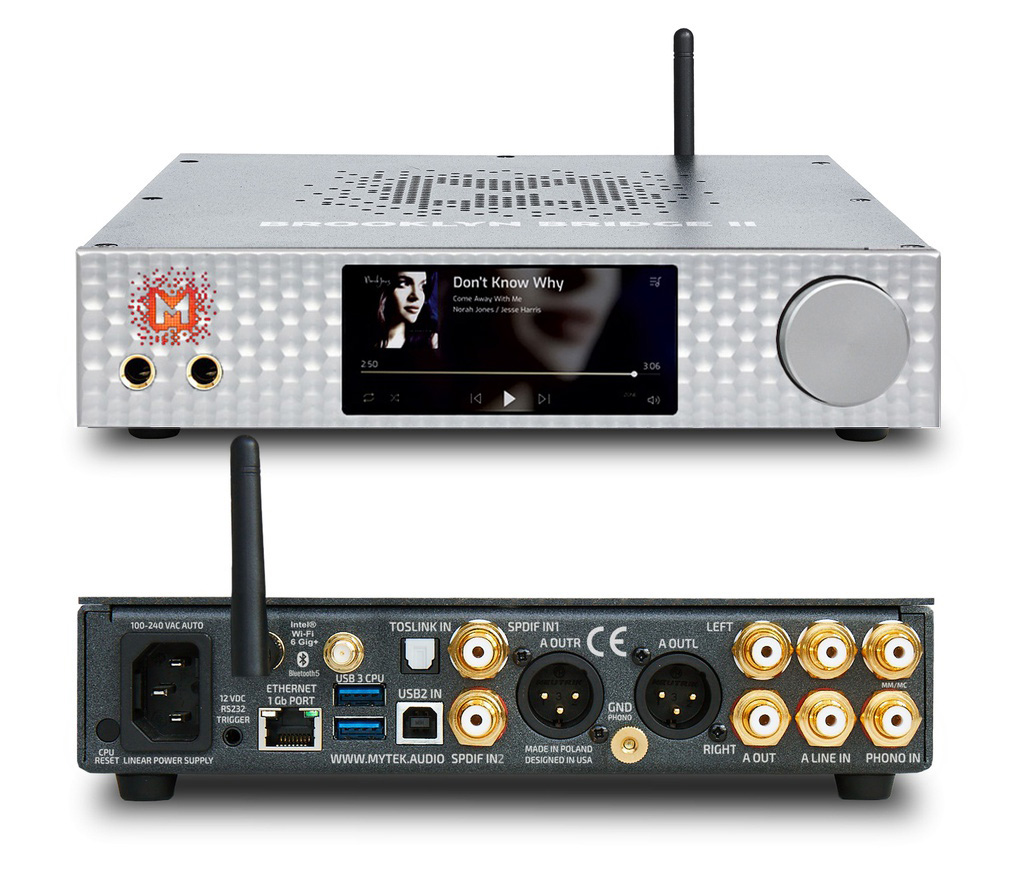 Brooklyn Bridge II ROON CORE
BACKORDERED (ETA. 2 WEEKS - updated Nov 1, 2023). Limited supply. Because of the demand for BBridge higher than our current production output, the backorder situation is expected to continue through the Fall. From now on Mytek will offer only one model with 4TB of internal storage (in silver or black), with one year of Roon subscription included.
1
---
30-day money-back

30-day returns
Fall/Xmas special: add Brooklyn AMP+ at 50% off, one of the best sounding class D amps  to create cosmetically matching hifi set at a reduced combo price
BROOKLYN BRIDGE II ROON CORE
---
ALL-IN-ONE • ROON CORE STREAMER • DAC • HEADPHONE • PHONO• PREAMP

Brooklyn Bridge II (BB2) is a major redesign of our best selling original Brooklyn Bridge (BB1) . The BB2 now officially has a built in Roon Core computer combined with Mytek OS for easy touch screen operation from an ipad, smart phone or front panel screen.  BB2 is a complete all in one Roon system and designed to be used primarily with Roon playback software. In addition it will provide similar functionality to the original Brooklyn Bridge (Upnp and Roon End Point) and more (Bluetooth, DSP etc). You can think of BB1 functionality being a subset of BB2. BB2 has the functionality of BB1 plus Roon Core computer, touch screen, toroidal linear power supply. Because the computer will be continuously updated over the life of the product, a lot of new functionality will be added, including new streaming and DSP options, file management etc., which are not possible nor intended for the BB1. The DAC and analog section is the same in both products, but because BB2 has the linear regulated power supply, it subjectively sounds about 20% better than the BB1.
Using Roon with BB2 requires Roon subscription. Roon provides superior playback and browsing experience, especially with metadata (lyrics, credits, just like a vinyl album covers), not available with other playback software and preferred by thousands of music lovers. Roon also provides more options such as advanced playlist management, multiroom playback and ARC which turns your local library into your own, private streaming service. Roon will play any format including DSD256 and 384k PCM, while other software is limited to max PCM 192k
If you don't want use Roon, nor Bluetooth and upgradable future functionality, and are happy with standard Tidal or Spotify playback interface which uses Upnp for simple playback, you should consider instead buying   the Brooklyn Bridge Original (click here) .
BUILT IN ROON CORE I5 (11th Gen) Intel CPU - (more powerful than the Nucleus+) POWERED BY ROON OS: Brooklyn Bridge has all functionality of a Roon Core CPU combined with high performance DAC. Roon Software can be operated from Roon Remote App or from Mytek Web Interface from any device connected to the network. Bridge can function as a multiroom playback machine playing to different Roon end points.

SPECS
Brooklyn Bridge 2 is all in-one Roon Core Streamer + excellent DSD/MQA DAC+ Analog (w/Phono) and Digital Preamp and a high-end headphone amplifier in a compact, modern beautiful chassis. 
It connects all your music sources in a highest sound quality hub before sending the music to amp and speakers or headphones. 
It's powered by modern touch operated software - Roon for music browsing and streaming and Mytek OS for all other functionality. Software controls available on front panel are repeated on a wifi device: tablet or smartphone for comfort and convenience. 
Music Sources: 
Built in Roon Core: Tidal, Qobuz and local library in any format up to PCM 384kHz, DSD256 and MQA
Analog Preamp: Phono M/C and M/M and line RCA input
Digital Preamp: SPDIF and Optical inputs for disk players, or TV,
                 Roon Ready DAC input for use w another streamer when required    

Bluetooth 5: including hi-res audio (quality depends on cellphone) - For quick casual listening to any internet sound/music source.
Future Functions: Mytek OS is a software platform that is continuously expanded with new functionality added. Software upgrade happens the same way as on any computer: upon "new software" notification user can choose to download and update the system. New software contains new features and fixes. Within the next months and years, Mytek plans to add alternative players such as Spotify and Tidal Connect and features like Apple Airplay etc. Their availability will be announced when software work on them begins. 
Future Functions:
Mytek OS is a software platform that is continuously expanded with new functionality added. Software upgrade happens the same way as on any computer: upon "new software" notification user can choose to download and update the system. New software contains new features and fixes. Within the next months and years, Mytek plans to add alternative players such as Spotify and Tidal Connect and features like Apple Airplay etc. Their availability will be announced when software work on them begins.  
Inside the shipping box: power cord for country of destination, usb 2.0 cable,  code for 2 months of FREE Roon subscription. Current manual is available as a pdf download on this page.

CONVERSION

up to 384k, 32bit PCM, native DSD up to DSD256, DXD, 130dB DR, ES9028PRO chipset with superior Mytek implementation (HAT (tm) Harmonic Audio Tuning) 


MQA HI-RES DECODER

DECODER: built in hardware MQA decoder, full unfold to original sample rate


DIGITAL DAC INPUTS

USB2 Class2 (OSX, Linux driverless, all formats up to 384k, DSD256), 2x S/PDIF, 1 Toslink optical (PCM up to 24/192k, up to DSD64 DOP, MQA)

ADDITIONAL DIGITAL INPUTS

Bluetooth 5 and Roon Ready Network Endpoint DAC input- PCM384k, DSD256, MQA.
ANALOG PREAMP INPUTS

Line level input (10k input impedance) or Phono M/M, relay controlled. All analog signal path to output.


2xUSB3/2 connectors

Can be used for:

1) Any music files on FAT /NTFS / Exfat drive or USB Stick. SSD is recommended because of 1A current limit)

2) additional USB DACs for additional Roon Zones (2pcs or up to several can be connected if USB hub is used)

ANALOG OUTPUTS

RCA, balanced XLR, simultaneous, 10 Ohm output impedance

CLOCK

Mytek Femtoclock Generator(tm) 0.82ps internal jitter



HEADPHONE OUTPUTS

Reference High Current, High transient Headphone Amp, 500mA, 6 Watts, dual headphone jacks, designed to drive hard to drive headphones. Balanced operation with a 1/4" to 4 pin XLR adapter


VOLUME ATTENUATOR

Choice of 1dB step analog attenuator,  or 1dB step digital 32 bit attenuator and purist relay bypass.

INTERNAL STORAGE


4TB of internal SSD (approx 625 CDs). Internal storage is part of the system SSD on the main CPU board and it is fixed and not user upgradable. Internal storage is accessed by the user as a network drive.



POWER SUPPLY

90W Toroidal Linear Power Supply powers the DAC and the Intel  I5 CPU from separate windings. Auto voltage detection adjusts to the local line voltage (90-240VAC 50/60Hz)

WEIGHT

6lbs, 3kg


WARRANTY

2 years

DIMENSIONS

WxDxH=8.5x8.8x1.74"=216x225x44mm


WEIGHT

6lbs, 3kg


WARRANTY

2 years

Specifications are subject to change.


 

 
Availability (updated on   Nov 1, 2023)

Brooklyn Bridge II is being now in continuous production and we have started shipments to preorder dealers and customers. The products are trickling from our factory in Poland, as the production ramps up. Preorders are now being  shipped.  If you have already placed a preorder with Mytek, you will be receiving an individual email with detailed information on the shipment when is ready. Because of the production being ramped up, we expect the fulfillment process for preorders to continue in the month of November. New orders are currently backordered for 2 weeks.    

Upgrade path for the Brooklyn Bridge I (original) released in 2018:
 
Mytek has now extended an upgrade offer to current Brooklyn Bridge original owners:  Brooklyn Bridge (original) can be traded towards a brand new Brooklyn Bridge II when it becomes available by requesting the upgrade directly with Mytek Audio on this upgrade page:


https://mytek.audio/shop/brooklyn-bridge-to-brooklyn-bridge-ii-upgrade-437#attr=

BROOKLYN BRIDGE II ROON CORE FAQ
What exactly is the Brooklyn Bridge II and why did Mytek built it?
Brooklyn Bridge is All In One a High End DAC, a Music Streamer, an analog and digital Preamp and  a Headphone Amp. In short it's the central house music source capable of playing and streaming all music sources, with the highest possible resolution and quality. Brooklyn Bridge being relatively small and portable, is an immediate, convenient source of hi-res music available immediately anywhere, to be connected (including via hotspot) and controlled with a smartphone. Mytek has 30 years of experience of building the best sounding mastering quality DACs. To create BBII, Mytek took an award winning Brooklyn DAC design and inserted a Roon Core (Nucleus+) in the same Brooklyn style box for the ultimate seamless experience which does not require Internet nor network expertise.


Why does BBII use Roon for playback?
Mytek has opted to choose and license Roon for its main playback engine, because Roon is the most advanced high end playback software available today. Roon has originated from the  Sooloos software, a pioneering product from Meridian in early 2000's, and has consistently focused on providing the ultimate music lover experience and support of all music formats including hi-res PCM and DSD and MQA formats. Roon's  ability to use recordings' metadata to provide an amazing record playback and studying experience is unprecedented and does not exist in any other playback software. Additionally Roon provides uniques features such as unified library of local files and multiple streaming services, multiroom playback to multiple DACs and "own private streaming service" experience of Roon ARC. Roon was simply the best and that's why Mytek chose it.
How powerfull is the BB II Roon Core?
BBII Roon core uses the Intel I5 11th generatin CPU and is actually more powerfull than the Nucleus+ because of this more powerful CPU. It's sufficient to handle the very large libraries , even exceeding the size of internal 4TB drive


Why BB II has the Bluetooth connectivity?
For convenience. Bluetooth connectivity is meant for all casual sound sources that user may instantly need to connect to speakers, such as podcast, youtube sounds, music samples etc. Bluetooth is extremely useful in daily situations. Mytek uses Intel Bluetooth 5 capable of all formats available on the source phone, including hi-res formats such as AptX and Sony's LDAC 9624.  In addition Mytek plans to introduce the Bluetooth headphones playback capability in the future software updates in 2024.

How good is the DAC circuitry inside the BBII?
It's the same circuit based on our own special implementation of the ESS ES9028PRO chipset, same as in the original Brooklyn Bridge released in 2019 (and Stereophile Product of the Year). However, because of the 90W toroid linear power supply and linear regulators, subjectively, the sound of BBII is roughly 20% better than the original Brooklyn Bridge which used the linear power supply. Also the BBII DAC has the newly invented HAT(tm) Harmonic Audio Tuning feature which allows for "warm" sound setting where the even  2nd and 4th harmonics of the DAC can be increased for subjective sound improvement. There are no comparable Streamers in the market with this good hi-res DAC at this price.


How will  the BBII software evolve?
BBII has a powerful Intel i5 CPU running customized Intel Ubuntu Linux. Mytek has combined the Roon platform with its own Mytek OS Software Platform. You can think of it as a computer with an OS which is periodically updated with new OS versions adding new functionality.  Mytek is will continue developing and adding new functionality to BBII which will include new options for streaming , playback and connectivity and digital signal processing. 


Can BBII be used without Roon or with services not supported by Roon?
Yes. Roon focuses on hi-res streaming services. Some services, for example Spotify are not supported. However, Spotify playback is possible and will be added in the next several weeks. Spotify playback will be possible via so called "Spotify Connect" feature of the Spotify smartphone software and will utilize BBII so called Upnp functionality.  Upnp can also be used for many similar service options and also alternate playback software.

Can BBII be used as Roon Ready end point in a system with another Roon Core?
Yes. It is possible to turn off the BBII Roon Core in menu/settings and make the BBII a Roon Ready DAC.


This is a preview of the recently viewed products by the user.
Once the user has seen at least one product this snippet will be visible.
Recently viewed Products

To install this Web App in your iPhone/iPad press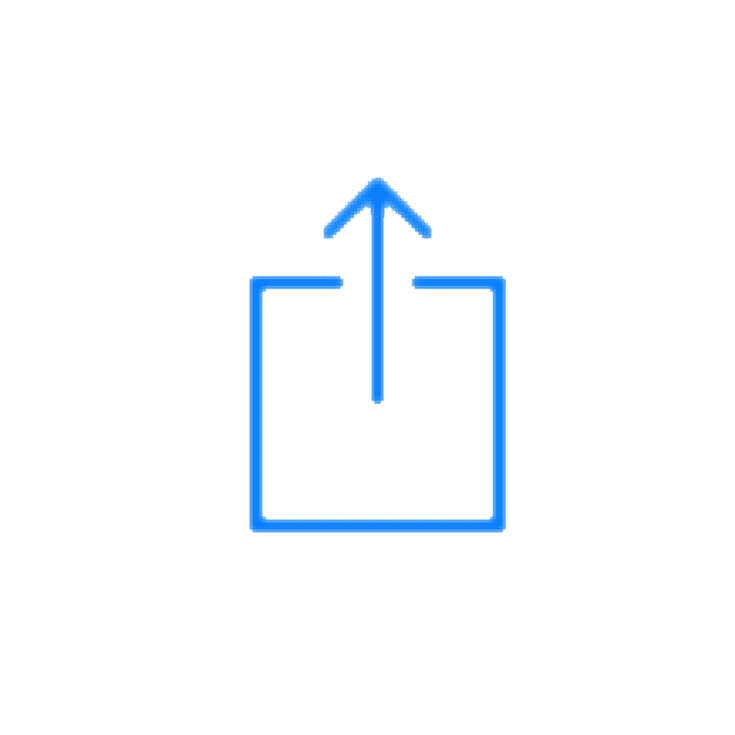 and then Add to Home Screen.